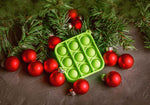 Fidget toys have seen a massive rise in popularity in the past year - and are the hot item for Christmas 2021!
These little gadgets are perfect for taking a quick break from work or studying and can be used in almost any environment. Fidget toys have also been shown to benefit those who suffer from ADD, ADHD, and autism spectrum disorder (ASD).
Why Are Fidget Toys So Popular?
Fidget Toys have risen in popularity due to their many benefits, including:
Stress Relief

Increased Attention and Productivity

Mental & Physical Health

Therapeutic Benefits for those with ADD, ADHD, and ASD

Multi-Sensory Experience & Stimulation
All of these benefits make fidget toys the perfect gadget to keep in your pocket or bag when you're on the go. 
It's also a great way to get children away from their electronics and engage with other people. They're the perfect antidote to the feeling of restlessness that often accompanies prolonged sitting.
How Are Fidget Toys Classified?
Fidget toys can be classified into two categories: traditional fidget toys and therapy fidget toys.
Traditional fidget toys are the more popular choice among shoppers with many different designs and styles. These toys can help to improve focus, concentration, and small motor skills while also providing a great way to relieve stress and anxiety.
Fidget toys have been proven to help those with ADD/ADHD, autism spectrum disorder (ASD), and other attention-related disorders cope with their conditions by giving them something constructive to do with their hands.
Most traditional fidget toys are solid shapes that can be rotated, shaken, or flipped to keep the user's attention concentrated on one thing. Many users say these simple actions help them stay calm and focused in high-stress environments such as exams or meetings at work.
The benefits of Fidget Toys have made them a popular Christmas present for children and adults alike. Read on to read our guide to today's most popular fidget toys for Christmas 2021.
The Ultimate Guide to 2021's Most Popular Christmas Fidget Toys
1. Pop-Its Fidget Toys
Pop-Its are an innovative take on the fidget toy that uses the satisfying feeling of popping bubble wrap into a reusable toy. They're a great way to keep your hands busy while still being active, as you need to be constantly pushing the Pop-Its to make them continue popping.
Pop-Its are designed to be used heavily but should be inspected regularly for signs of wear and tear. As one of the top Christmas fidget toys this year, Pop-Its come in a wide variety of colors and designs to suit all tastes.
2. Fidget Spinner
The Fidget Spinner has become one of the most popular fidget toys in recent years. Fidget Spinners started the fidget toy craze with their simple design and endless possibilities. The small spinners are held between two fingers and spun at high speeds, distracting the mind from other thoughts.
Fidget Spinners can be spun using one hand or both hands, allowing you to switch from one activity to the other. This is a great way for children to concentrate on multiple tasks at once, which can help them in school or when learning a musical instrument. Fidget Spinners are extremely popular in schools for this reason.
3. Pop Tubes
Another popular Christmas fidget toy is the Pop Tube. Pop Tubes are great for relieving stress and anxiety in almost any environment. They're easy to carry around in your pocket, allowing you to stay relaxed whenever you feel the need to take a break from stressful activities.
Pop Tubes are made from lightweight but sturdy plastic, making them ideal for users with small hands. The ball inside can be easily removed and replaced when you need a new one.
4. Dimple Fidget Toys
Dimpel Fidget Toys are similar to Pop-Its in their innovative design. However, their innovative dimpled surfaces work in a completely different way. They're put on flat surfaces, such as the back of your hand, and pressed to activate their tactile design.
Inexpensive and easy to use, Dimple Fidget Toys are ideal for children or anyone who likes simple but effective toys. The tactile design provides a satisfying feeling while still being easy to activate. Dimple Fidget Toys come in many different colors and designs, which are sure to make your life more exciting.
5. Mochi Squishy Toys
Mochi Squishy Toys are small, palm-sized inflatable balls. They're made from a mixture of two different kinds of squishy material for a unique feeling that's unlike any other toy you've ever felt. The soft squishy material is surprisingly sturdy and can be squeezed as hard as you like without damaging it.
A great way to relieve stress, individuals can use Mochi Squishy Toys in a wide variety of ways. They're easy to carry around and make for great stress-relieving toys to keep at your desk or in your bag. Mochi squishy toys come in various shapes and sizes, including food-themed designs such as ice creams and donuts.
6. Multi-Toy Cube
A unique spin on the fidget toy, the Mult-Tasking Cube Set is a small cube that's designed to be used for multiple tasks. A single cube can contain various fidget toys such as pop-its, switches, spinners, and more.
The Multitask Cube Set is a great way to give your child the feeling of using several fidget toys at once without risking them losing multiple toys. The cube design makes it easy for everyone to use, regardless of their age or finger size. This makes it one of the best Christmas fidget toys out there.
7. Fidget Ring
Increasingly popular for kids and adults alike, the fidget ring is an innovative toy that's sure to keep your mind occupied. It's a small ring-shaped device that you wear on your finger and fidget with when you feel restless or stressed out.
Fidget Rings allow you to get rid of the habit of biting your nails, scratching yourself, and other nervous habits without getting in trouble for doing them. Fidgeting with the ring helps keep your fingers occupied, allowing you to stop acting on an impulse.
Gift Them All with Zen Laboratory's Fidget Toy Pack
While each of the above fidget toys can bring its own benefits, no two are the same. That's why Zen Laboratory offers a Fidget Toy Pack that contains every popular fidget toy on the market today!
The Fidget Toy Pack includes 50 different fidget toys that are perfect for Christmas, with options including:
Pop Tubes

Unicorn and Dinosaur Party Favors

Marble Mesh

Wacky Tracks

Monkey Noodle

Mochi Squishy Toys

Game Controller Pad

Fidget Rings for Anxiety

and more!
Zen Laboratory's Fidget Toy Pack is the key if you are looking for the best gift for the holidays. It contains all of today's most popular fidget toys in one convenient package!
Visit Zen Laboratory online today
to learn more, and purchase one today for the perfect Christmas Fidget Toys gift!