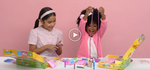 At Zen Laboratory we pride ourselves on making quite possibly the most ridiculously creative slime kit on the market.  This box is packed so full of slimes, glitters, beads, sugar paper, foam balls, and glow powder that if you open it and touch anything you wont be able to easily close the box again.  Everything is packed in there so tightly to maximize the amount of ingredients and options we had to hire special engineers just to help us put the items in the box.  Whether you want to make a fruit smoothie with the fruit glitter or a luminescent green slime monster we've got you covered.  Watch two of our favorite scientists unbox and play with the Jumbo Slime Kit and Slime Supplies.  With so many colors of slime containers, they have barely scratched the surface of the endless possibilities of slime creations. 
If you love toy unboxing videos and slime unboxing videos as much as we do you're sure to be entertained.  This slime unboxing video is one of the longest and most in-depth!

We love toy unboxing videos at Zen and making these are a blast.  We are surely going to have more unboxing videos in the near future.  We also have some exciting new toys for kids coming this holiday so stay tuned!